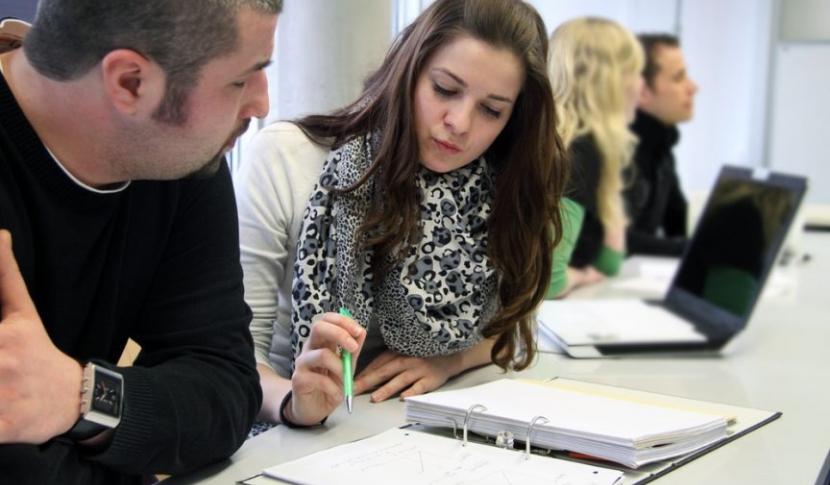 Back to News
Adult Learners: The Not-So Non-Traditional Learner
[Note: Today's guest blog is provided by Melissa Peraino, member of MASU's Extended Education and Professional Development Directors Committee.]
America's got talent. Does Michigan? Many cite the lack of access to a talented workforce as one of the reasons for Amazon's recent pass at establishing a second headquarters in Michigan. Their request for proposal indicated that a "highly educated labor pool is critical, and strong university system is required." Professional and continuing education (PCE) units at higher education institutions in Michigan have long been trying to add to the talent pool by serving primarily adult learners. But when the monumental task of ensuring a highly educated workforce or re-tooling adult learners is relegated to one, typically understaffed and underfunded department, the solution is a mere drip in a bucket. The University Professional and Continuing Education Association's Hallmarks of Excellence in Professional and Continuing Education recognize adult student support as one of the pillars of practice unique to PCE units. "Recognizing that student diversity requires a deep understanding of the adult learner and the various populations that professional and continuing education serves, its leaders must be strong advocates for those services that foster learning and student success." The Reaching for Opportunity report, generated by a diverse group of Michigan education stakeholders, draws the connection between the states with the highest degree and credential attainment and the highest incomes. Paired with the fact that Michigan has a particularly large share of adults in the workforce with some college but no degree or credential, PCE units have much work ahead. Degree completion not only contributes to the economic bottom line for individuals and communities, but also creates citizens who are critical thinkers and problem solvers.
CHANGING DEMOGRAPHICS
The once-called nontraditional learners, implying that adults were less reflective of the majority of students on a campus, are quickly becoming more prevalent on campus. A nontraditional student is typically defined by age, part-time status, working full time, having dependents, or is a single parent. The Bill and Melinda Gates Foundation Postsecondary Success initiative describes the changing face of today's college student. Forty percent of students are considered adult learners, many returning to campus after years of work, 62% work full or part-time and 28% have children. Many of these learners need access to flexible programs leading to a degree, certificate or market relevant credential. In addition to seeing an increase in adults in traditional campus programs, some universities offer separate programs for adults while providing unique services for this growing population. PCE units that serve adult learners often provide and advocate for flexible and innovative program delivery and content.
ACCELERATED DEGREE COMPLETION
Reaching out and welcoming back adults who "stopped-out" before earning a credential is one strategy used by Grand Valley State University's Center for Adult & Continuing Studies. While not first of its kind in Michigan, the department recently began offering an Accelerated Adult Degree Completion program, leading to a Bachelor of Science or Arts in Liberal Studies with an emphasis in Leadership. Offering existing curriculum in an accelerated, hybrid format for a specific group of adult learners was a first for the institution. The program accepts previously earned credit from other institutions and offers Grand Valley academic coursework that can help adult learners earn a bachelor's degree in as little as 19 months. Instead of a traditional 16-week semester, courses are offered in 5-week formats, the curriculum is linked, and faculty who teach courses in the program work together to ensure learner success. Applying lessons learned in the classroom to a real-world project and creating a portfolio of learning is a natural fit with adult learners as well. While this work supports the needs of all learners, it was designed specifically for adults. This accelerated degree offers a viable path to degree completion for adults, as even trying to finish an associate's degree as a part time student could take four years.
SUPPORT SERVICES AND STUDENT SUCCESS
Adult learners balance multiple priorities—family, work, and community activities, creating high expectations for convenient, accessible, and relevant programming and services. Active learning, relevant content, flexible learning opportunities, connecting to campus resources through more of a one-stop shop approach, and a personalized learning plan and accompanying support are some of these expectations. PCE units work across the campus with other academic and service units to create opportunities to serve adult learners in meaningful ways.
Kate VanDerKolk at Grand Valley has spent much of her student services career focusing on the needs of the adult learner. As a program advisor, she has reached out to students who stopped-out of their academic journey and ensures students are on track to complete their degree. She created a hybrid (online and face-to-face) orientation program to allow for ease of scheduling and to foster community building among students. She takes a unique approach to advising adult learners, and continuously assesses program satisfaction—practices which have resulted in an 85% fall-to-fall retention rate. VanDerKolk was recently recognized at the UPCEA Regional conference, earning the Excellence in Advising award for outstanding leadership and service for the Midwest region.
COLLABORATING AND RAISING AWARENESS
West Michigan has created a network of university professionals dedicated to serving adult learners. The Grand Rapids Area Higher Education Network (GRAHEN) is a collaboration of 11 colleges and universities that offer degree programs for adults. The organization promotes the pursuit of lifelong learning opportunities and increases awareness and access while striving to cultivate talent and leadership development. One signature program is an annual awards program that recognizes outstanding adult learners from the region.
The public universities also work collaboratively with community colleges, providing 2+2 degree completion programs and course transferability between institutions. Some institutions offer coursework on the campus of community colleges in a higher education center, thus providing opportunities for place-bound learners to access degree completion programs.
INCREASING ACCESS AND SUCCESS
The reasons adults return to learn are as varied as the learners who walk through our campuses' doors. Helping adult learners find the right pathway and program to degree completion, certification, or re-skilling is a task that PCE units have historically held as a primary goal.
Adult learners cannot stay on the margins. Serving, supporting, and encouraging an adult learner is everyone's job. PCE units continually seek to provide a voice on campus for those who may not currently have one and extend the reach of the traditional university. Universities serving adult learners with targeted programs and services will continue to contribute to creating a highly educated workforce; not merely for the next major headquarters bid, but for the economic well-being of our state.
Author: Melissa Peraino, Grand Valley State University, Director of Educational Outreach, Center for Adult and Continuing Studies
This commentary for MASU's OPtimizing EDucation blog is part of a series titled, Extending the Reach through Continuing Education, submitted by MASU's Extended Education and Professional Development Directors Committee. They represent professional and continuing education departments in Michigan's 15 public universities. The committee works to inform the Association and its many constituencies of issues and opportunities related to Continuing/Professional Education in Michigan. Additional blogs in the series include: Answering the call for innovation in times of change.
---