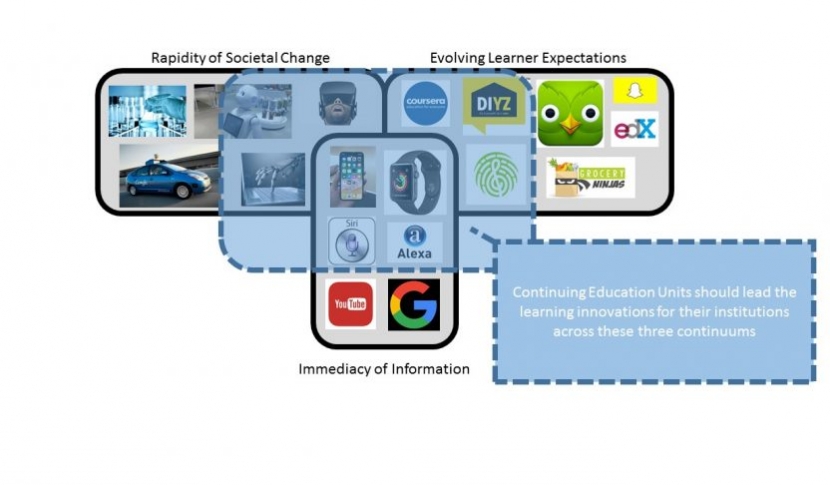 Back to News
Continuing Education Units – Answering the Call for Innovation in Times of Change
[Note: Today's guest post is provided by the chairperson of MASU's Extended Education and Professional Development Directors Committee, Gerald Rhead.]
It may be hard to fathom that innovation can be found in something that has existed since the 19th century, but inventive higher education institutions are recognizing the value of something that has been right under their noses for the past 100 years. I am referring to the continuing and professional education units that exist within many colleges and universities across the globe.
Higher education as a whole and certainly those responsible for the continuing education of learners who engage with U.S. colleges and universities are facing an amazing transformative period.
I believe there are many factors that make this period a transformative one for higher education institutions, but I will focus on the three key areas that I feel have the potential for "make us or break us" impacts:
The rapidity of societal change
Continuously evolving learner expectations
The immediacy of information
RAPIDITY OF SOCIETAL CHANGE
Educational institutions of all shapes, sizes, and foci are being impacted by the rapidity of societal change. These changes can be ubiquitous, diffuse, and difficult to recognize, especially as society changes at the intersections of an institution's programmatic areas. Look no further than the emergence of autonomous technology. "Robots, artificial intelligence, computerized algorithms, mobile sensors, 3-D printing, and unmanned vehicles are here and transforming human life," states Darrell M. West, Vice president and Director of Governance Studies and founding director of the Center for Technology Innovation at Brookings. "People can decry these developments and worry about their 'dehumanizing impact,' but we need to determine how emerging technologies are affecting employment and public policy."
EVOLVING LEARNER EXPECTATIONS
Learner's expectations and perceptions are also changing. According to a 2017 University Professional and Continuing Education Association (UPCEA) and Chmura[[http://upcea.edu/wp-content/uploads/2017/10/Occupational-Shifts-and-Higher-Education-Credentials.whitepaper.sept2017.pdf]] study, more than a third of American workers are millennials (defined as adults 18-34). Running a close second is Generation Z (those born 1996 and after). These two generational groups seek different learning methodologies and pathways than those who came before them.
IMMEDIACY OF INFORMATION
Although Google only accesses about 5% of the total content on the Internet, there is still a bundle of info that is available at the fingertips or voice commands of anyone with Internet access. Access to an Internet search does not replace formalized learning; however, it does influence the learning dynamic. Immediate access to information has changed the way people complete learning tasks, the way they problem-solve and the way they retain (or no longer feel the need to retain) certain types of information. The learners of today and tomorrow will expect that our formalized learning structures will account for this immediacy in the way universities design and deliver their learning experiences.
WHY DOES ANY OF THIS MATTER?
Higher education institutions are steeped with tradition and time-tested approaches to delivering education. For many, innovations in the deployment of knowledge to learners is not a key or specific strategic focus. However, some institutions are recognizing that their future success and long-term sustainability is dependent on improving, changing and adapting to the needs of learners. Within the last few years, we have seen the emergence of units at higher education institutions specifically focused on innovations in teaching and learning.  Below are three examples of existing efforts at higher education institutions:
Arizona State University (Online)
Arizona State University is an example of an institution that has taken an "all-in" strategy for serving changing and emerging needs of learners. In a few short years, ASU has transformed from a predominantly face-to-face institution to one now offering more than 150 degrees that are completely available online.
University of Michigan—Academic Innovation
The Academic Innovation initiative at the University of Michigan is a result of a charge by President Mark Schlissel. U of M has generated a highly engaged and collaborative environment that connects the University's commitments to academic excellence, inclusion and innovation in order to continue U of M's role in defining how the world learns.
The work of their Digital Education and Innovation Lab (DEIL) is producing transformative opportunities for learners around the globe. They experiment with new pedagogies and technologies, challenge assumptions, and create new models for learning and grow successful initiatives to transform education.
Michigan State University—HUB for Innovation in Learning & Technology
The HUB at Michigan State University (MSU) is the result of a charge by Provost and Executive Vice President for Academic Affairs June Youatt. The mission of the HUB at MSU is to help the university reinvent itself as a learning institution. The HUB is structured as an internal design consultancy that works in partnership with programs, departments, and colleges to foster innovations that come from MSU's students and faculty.
I posit that the examples above as well as the myriad other units like these that are emerging at higher education institutions across the country and globe are, at least in part, an institutional response to developing a way to respond to the transformative factors discussed above.
The illustration below is my attempt to show what I believe institutions of higher learning must consider if they are to remain relevant. I suggest further that continuing education units or innovation units that are comprised of the thinkers, and more importantly, the doers, that have traditionally led forward-thinking initiatives at their universities are a key ingredient in the long-term success of U.S. colleges and universities.
The Role of University Continuing Education Units in an Era of Transformation
Regardless of what these units are called, they have traditionally been the place where new ideas are tested. They have had to be responsive to industry and learners' needs as many are financially self-supporting. If they do not adapt, innovate, fail-fast and solve problems quickly they will cease to exist.
Building on a century of leading and fostering learning innovations within American universities, Continuing Education Units must continue their vital roles. The success of the institutions they serve may just depend on it.
Author: Gerald S. Rhead, Michigan State University, Director of Academic Entrepreneurship, HUB for Innovation in Learning & Technology
This commentary for MASU's OPtimizing EDucation blog is part of a series titled, Extending the Reach through Continuing Education, submitted by MASU's Extended Education and Professional Development Directors Committee. The committee works to inform the Association and its many constituencies of issues and opportunities related to Continuing/Professional Education in Michigan.