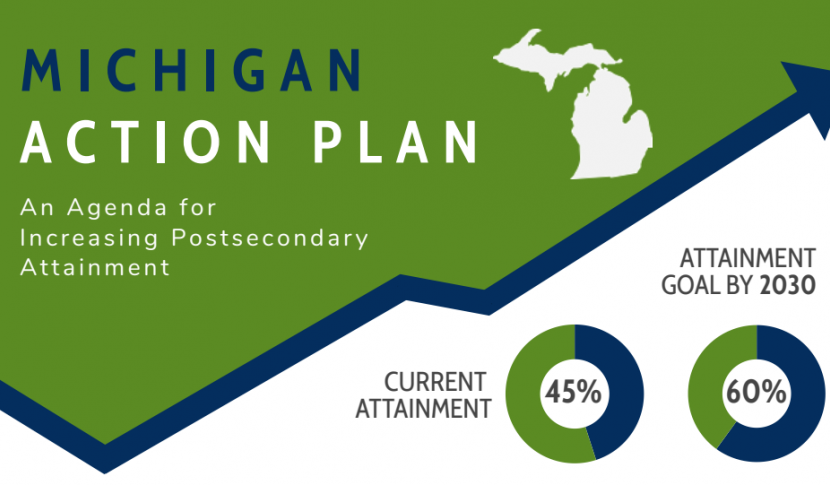 Back to News
A Michigan Action Plan for Increasing Postsecondary Attainment
After more than a year of deliberations on how best to increase the proportion of Michigan residents who possess a postsecondary degree or certificate, an action plan has come together. As originally announced last fall, a diverse state work group has participated in a seven-state effort to articulate a series of strategies and specific actions aimed at achieving their respective state's educational attainment goals. Michigan Governor Gretchen Whitmer has set a goal to have 60 percent of Michiganders possess a postsecondary credential by 2030. It's a goal that was also enshrined in the fiscal year 2021 budget recently passed by state lawmakers; a budget blueprint that will help to undergird efforts to increase college access and affordability, and for which we are appreciative.
Michigan's educational attainment plan includes a total of eight priorities. Due to the COVID-19 pandemic, however, priority focus will be given to three of them:
Increase postsecondary education enrollment and completion among adults

Increase the proportion of students completing and submitting the Free Application for Federal Student Aid (FAFSA)

Improving postsecondary participation and completion rates among economically disadvantaged students and underrepresented minorities
A series of actions accompany each of these three attainment priorities. The infographic shown below illustrates some of the action steps associated with these three priorities as well as the primary desired outcomes these priorities will generate.
Within state government, some recent accomplishments have already been realized. The recent launch of the Futures for Frontliners and Michigan Reconnect financial aid programs will help tens of thousands of Michigan residents achieve their first postsecondary credential, up to an associate degree, and many who hopefully will continue their educational pursuits by earning a bachelor's degree or more. The establishment of an Office of Sixty by 30, housed within state government, will help coordinate attainment efforts; one entity among a diverse group of stakeholders working to advance Michigan's attainment agenda. Achieving educational attainment goals will require synergy with regional and community efforts, such as the recently launched Detroit Regional Talent Compact.
The COVID-19 pandemic is buffeting Michigan's colleges and universities, and most certainly the tens of thousands of students they serve. We are currently in the midst of an all hands-on-deck moment in an effort to shore up postsecondary participation, maintain college affordability, and mitigate equity and achievement gaps among underserved populations. This Michigan action plan for increasing postsecondary attainment is one vehicle among many that will help keep our focus on what is an important agenda for strengthening the future prosperity of Michigan, its communities, and its residents.
Daniel Hurley is the CEO of the Michigan Association of State Universities.

---