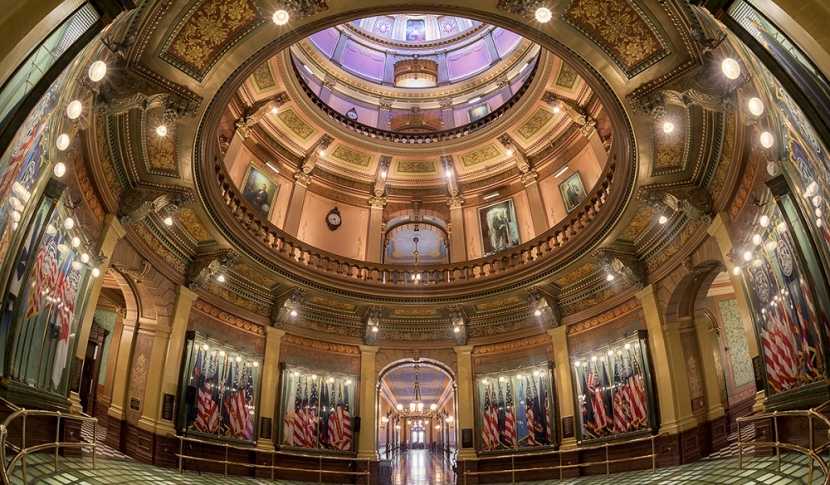 Back to News
Memo to State Policymakers: Thank You.
When it comes to matters of state funding for higher education in Michigan and the enhancement of college affordability, there has been little reason to express appreciation since the turn of this century, given the more than $1 billion inflation-adjusted disinvestment in operating support and student financial aid programs that has transpired. It's a level of disinvestment that has placed Michigan as an outlier in the Midwest when it comes to prioritizing college access.
This year is different.
A few weeks ago, when Governor Gretchen Whitmer and legislative leaders were deeply engaged in final negotiations of the state's fiscal year 2021 budget, I penned a commentary pleading that they consider a number of factors involving the importance of maintaining state investment in higher education during this most unprecedented time.
In the end, Governor Whitmer, Senate Majority Leader Mike Shirkey, and Speaker of the House Lee Chatfield came together in bipartisan fashion to pass a budget that holds higher education funding harmless from cuts. This is an astonishing outcome for the fiscal year that began October 1, especially given the fact that the state was facing a more than $3 billion shortfall a mere 120 days ago.
In normal times, a flat higher education budget would not be something to celebrate.
These are not normal times. And as such, given the pandemic-fueled economic battering that Michigan is currently weathering, the freshly signed FY 2021 state budget reflects the strongest higher education budget in recent memory. The budget ensures that institutions can continue to operate and keep tuition affordable for students and their families despite a projected billion dollar-plus financial hit they have suffered due to the pandemic.
On behalf of the leaders of Michigan's 15 public universities, on behalf of the governing boards of these institutions, and especially on behalf of the 280,000 students these universities collectively serve, we say thank you.
Thank you, Senator Jim Stamas, chair of the Senate Appropriations Committee. Thank you, Representative Shane Hernandez, chair of the House Appropriations Committee. Thank you, Senator Kim LaSata and Representative Scott VanSingel, chairs of the higher education appropriations subcommittees in their respective chambers. And thank you to the Democratic vice-chairs on all these entities.
Thank you, State Budget Director Chris Kolb, and the higher ed team at the State Budget Office, for your diligence and perseverance in working in such extraordinary fiscal conditions to craft a polished budget that will help Michigan deftly chart the white waters of this pandemic and the economic turbulence left in its wake.
Thank you, Governor Whitmer, for sustaining an unrelenting focus on the importance of boosting the state's educational attainment level and in so doing, fortifying this priority through much needed, new investments. And thank you, members of the Executive Office of the Governor, especially Brandy Johnson, policy advisor for education and workforce development, for serving as a strong advocate and liaison to the state's entire higher education community during this extraordinary tumultuous year.
Despite all the challenges confronting state lawmakers at this time, leadership and bipartisanship have generated several recent accomplishments that will add a boost to raising the postsecondary education levels of Michigan residents. Included in the FY 2021 budget is a legislative affirmation of the Governor's educational attainment goal of having 60 percent of residents possess a postsecondary degree or high-quality certificate by 2030, up from the current 45 percent. And announced just this week is the creation of a new Sixty by 30 office, to be directed by Kerry Ebersole and housed in the Department of Labor and Economic Opportunity, which will help coordinate and advance state educational attainment efforts.
The Futures for Frontliners state financial aid program, launched just two weeks ago, has already received 60,000 applications from residents who have served Michigan in front line occupations during this pandemic and who want to attend one of the state's 28 community colleges tuition-free to upgrade their skills through the pursuit of a degree or technical certificate. And again, with bipartisan legislative support, the Michigan Reconnect program is in the process of being launched, which will provide tuition free assistance at community colleges to Michigan adults aged 25 and older. Our next step as a state should be to expand the eligibility of these programs to at least those public universities that offer associate degrees in rural areas of Michigan.
As I wrote in my prior commentary, the state's budget is a collective representation of our policymakers' priorities. This year's budget, with its sustained investment in higher education, has sent a strong message that investment in Michigan's public universities and the students they serve matters greatly to the prosperity of our state, our communities, and us as individuals.
For this we are grateful, and again, we say thank you, Governor Whitmer and legislative leaders, for your leadership, your bipartisanship, and your investment in Michigan and its people.
Daniel Hurley is the CEO of the Michigan Association of State Universities
---