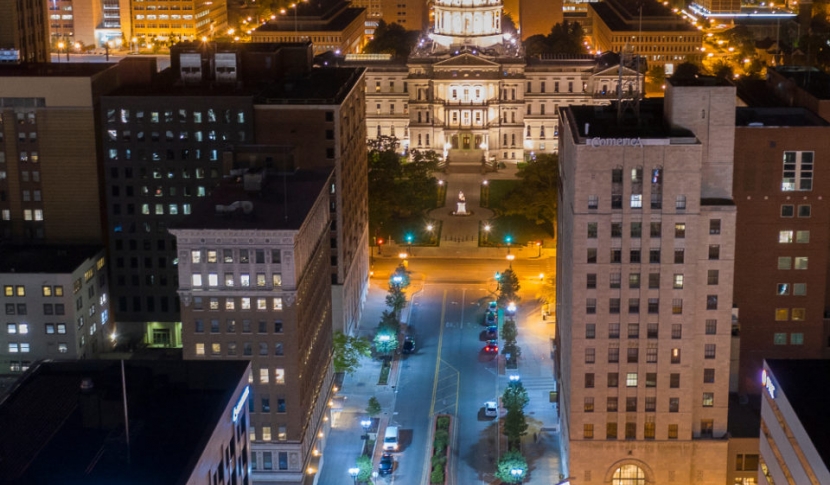 Back to News
Michigan to Participate in Multistate Initiative to Boost Educational Attainment
Michigan is one of seven states selected to participate in an "Attainment Academy" aimed at crafting a statewide strategic plan for increasing the postsecondary education levels of the state's residents. The effort is being coordinated by the State Higher Education Executive Officers association (SHEEO) and the Education Strategy Group (ESG) with grant support from the Bill and Melinda Gates Foundation, Lumina Foundation, and ECMC Foundation. Joining Michigan in this 18-month exercise are California, Indiana, Louisiana, New Jersey, North Carolina and Tennessee. The Michigan Association of State Universities (MASU) is facilitating Michigan's participation in the attainment academy.
A leadership team from each state will help guide the work, learning and working with other state teams in creating a plan to close equity gaps, increase overall education attainment (not just in four year college degrees, but also in apprenticeships, associate degrees and other credentials) and produce a blueprint for creating a more educated workforce, in turn increasing the economic capabilities and vitality of each state. Michigan's state team include leaders representing the following entities: Michigan Independent Colleges and Universities, Michigan Association of State Universities, Michigan Community College Association, the Office of Gov. Gretchen Whitmer, Michigan Department of Labor and Economic Opportunity, Michigan Department of Education, and the Detroit Regional Chamber.
Participation in this seven-state academy comes at a fortuitous time for Michigan. A multitude of forecasts indicate strong demand for a future workforce comprised of individuals with higher levels of postsecondary degrees and certificates. The Michigan Bureau of Labor Market Information and Strategic Initiatives' forecast shows that of the "Hot 50" high-demand, high-wage occupations through 2026, 36 will minimally require a four-year degree. The bureau estimates that of the average number of annual job openings in the state during this time period, jobs requiring a high school diploma, an apprenticeship or on-the-job training will grow 4.9%; jobs requiring some college, up to an associate degree will grow 9.7%; and occupations requiring a bachelor's degree or higher will grow at an 11% clip.
Recognizing the strong correlation between a state population's educational attainment levels, per-capita earnings and job security (unemployment rates) — and numerous other benefits of a higher-educated society, such as greater civic participation, better health outcomes, and reduced spending pressures on public assistance and social insurance programs — Governor Gretchen Whitmer established a goal to have 60% of Michigan residents earn a college degree or other postsecondary certificate by 2030. Today that number stands at 45 percent.
There will be many opportunities throughout the coming year for Michigan's state team to engage a diverse array of stakeholders to inform this work. The initiative will provide opportunities for each state team to learn and receive support from their peers and national experts to:
Analyze key indicators along the education-to-workforce pipeline to identify critical areas where students drop out, the potential impact of adjustments, and the alignment between current credential/degree supply and occupational demand;
Review state attainment plans and make adjustments to initial efforts to meet attainment goals by incorporating lessons learned from systems and states that are witnessing results across the country;
Identify and adopt new strategies to close equity gaps and support student success among traditionally underserved student populations;
Develop and strengthen alignment between attainment plans and state workforce goals; and
Broaden and deepen support for attainment efforts among policymakers, institutional leadership, faculty, and other key constituents and stakeholders.
A key to success will be closing equity gaps in attainment among underserved populations. No state will reach its attainment goal without closing these gaps.
We will be reporting on our progress – along with hurdles and issues of concern – along the way. We look forward to providing lawmakers, business and education groups, philanthropic interests, and the public with updates and look forward to your input and your questions.
This is a critical undertaking for our state. The "brawn" economy that drove Michigan to middle class prosperity during the auto industry's growth through about 1980 has been increasingly replaced with a "brain" economy. Michigan has failed to successfully make the transition to today's more advanced economy, as witnessed in its decline in per capita income compared to the national average. In 1980, our per capita income was $9,801; the national average was $9,494. By 1990, we had dropped below the national average by $428. Figures from 2015 put the national average at $47,669; Michigan is at $42,427, a full $5,242 below the national average.
Michigan needs to improve its educational attainment across the board if we are to again become a leader in providing individuals and families with the opportunity to better themselves, give our children a bright future, and prepare for a successful retirement. The "Attainment Academy" is an important tool in achieving these worthy goals.
Daniel J. Hurley is the Chief Executive Officer at the Michigan Association of State Universities
---