State Educational Attainment Plan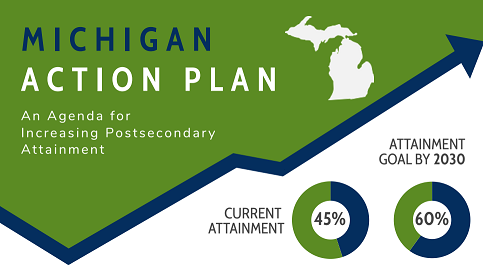 As a result of the goal set by Governor Gretchen Whitmer early in 2019 to achieve a state educational attainment level of 60 percent by 2030 (currently 45%), Michigan was invited to participate in a seven-state educational attainment academy. The attainment academy was coordinated by the State Higher Education Executive Officers Association (SHEEO) and Education Strategy Group and was supported financially by the Bill and Melinda Gates Foundation, Lumina Foundation, and ECMC Foundation. The Michigan Association of State Universities served as a convener for a group of diverse stakeholders in crafting a plan to boost the proportion of Michigan residents who have a postsecondary degree or high-quality certificate.
Michigan's attainment plan work group met over the course of a year, including three times with the work groups from the other six participating states. As the deliberations took place, they were shaped by the onset of the COVID-19 global pandemic. As a result, the attainment plan, finalized in September 2020, will initially focus on three priority areas:
Increasing postsecondary education enrollment and completion among adults
Increasing the proportion of students completing and submitting a (Free Application for Federal Student Aid (FAFSA)
Improving postsecondary participation and completion rates for economically disadvantaged students and underrepresented minorities
The three primary strategies and actions associated with these priorities are illustrated in the infographic below. A more detailed set of strategies and actions can be viewed in the document below.