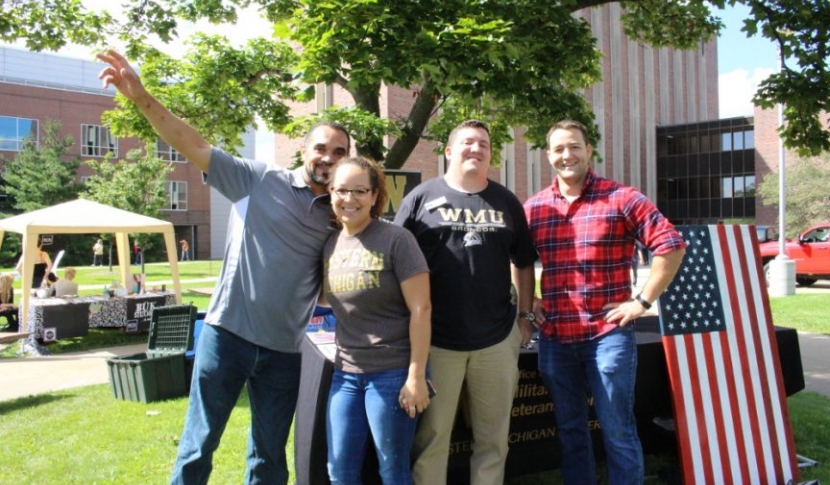 Back to News
All of Michigan's Public Universities Earn "Veteran Friendly" Designation
Each year the Michigan Veteran Affairs Agency conducts a survey of higher education institutions in the state to assess the quality of their veteran programs.
The survey, "The Veteran Friendly School Application," uses seven criteria to determine the level of support provided to student veterans and military connected students on campus. Military connected students include veteran spouses and dependents, along with National Guard, Reservists, and active duty service members.
The criteria the agency uses for determining Veteran Friendly status includes whether an institution has:
an established process for the identification of current student veterans and military connected students on campus;
a veteran-specific website;
the presence of an active student veteran association;
veteran-specific career services – including resources for vets, veteran advising and/or outcome monitoring;
an on-campus veteran coordinator and/or designated staff point of contact;
a system in place to evaluate and award credit based on prior military training and experience; and
monitoring and evaluation systems for student veteran academic retention, transfer and graduation rates.
Bronze level Veteran Friendly status is awarded for three of the criteria, Silver level for four of the criteria, and Gold level for six or more of the above criteria.
Michigan's public universities are all consistently rated as Veteran Friendly, with 14 of the 15 awarded the coveted Gold level in 2017. Public universities really are great places for veterans to receive an education in the state of Michigan!
The Veteran Friendly distinction is a meaningful one. With thousands of veterans and military connected students pursuing degrees across the state, this designation acknowledges those institutions whose processes and student support endeavors best meet their needs. Aside from the original G.I. Bill, developed in the 1940's, there were once traditionally very few additional tools in place to support student veterans. Most student veterans, like myself, had access to assistance for non-traditional students, but processes for helping vets to transition from the military to college were not established until more recently. Fortunately, a vast array of support programs for veterans have been developed in the Post-9/11 era. This has been in large part due to the large number of veterans returning from the deployments in Iraq and Afghanistan, as well as enhancements to the G.I. Bill. Many student veteran programs at our state universities provide ongoing opportunities for student veterans to engage with one another, prosocial activities for student veterans on and off campus, and outreach to the local veteran community.
Check out the Veteran Friendly School website for more details about the terrific veteran programs at our public universities. Direct links to each university's veteran services webpage are provided below.
Will Emerson is the Director of Student Success Initiatives at the Michigan Association of State Universities.
---