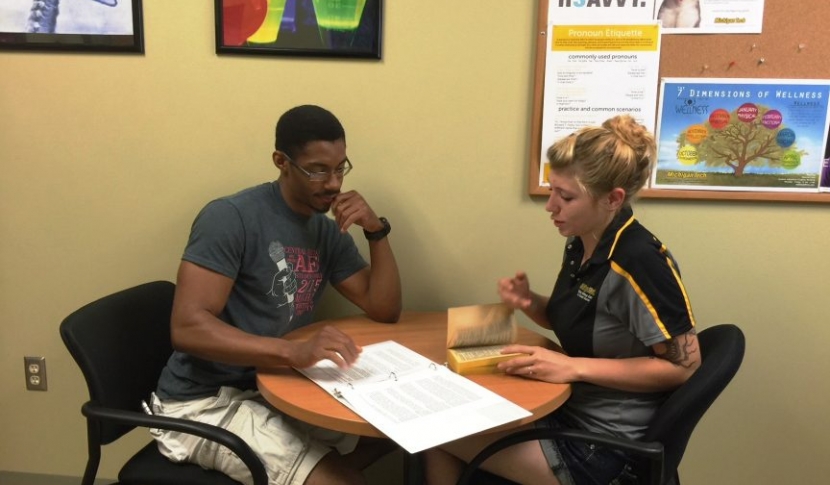 Back to News
Advancing Student Outcomes at Michigan's Public Universities through Student Success Coaching Programs
Student Success Coaching programs have grown in popularity in recent years and are represented at nearly all Michigan public universities. This is in part because they are a collaborative effort between universities and their students designed to nurture holistic student development. As a term, Student Success Coaching applies to a broad swath of mentoring and assistance programs which commonly leverage student peers in an effort to build a sense of inclusion and community, help maintain students' academic achievement, and aid them in navigating their undergraduate endeavors. The programs typically utilize staff or faculty members to advise and guide these students.
As Susan Liebau, Director of the Waino Wahtera Center for Student Success at Michigan Technological University states, "Providing peer-to-peer coaching in effective self-management skills and proven study habits has provided us with a great opportunity to give the students what they need, where they are at. Many of them prefer to receive their input from their peers. In this manner coaching is a great complement to other services like counseling, tutoring or working with student disability services."
In populations of first generation students the mentoring component of student success programs functions to boost their knowledge about the basics of successfully attending college, providing opportunities to ask candid questions about terminology which can often be taken for granted by those working in higher education. Students are provided with information to help them navigate their campuses, enhance their educational experience, and most importantly, ensure they succeed academically.
The Student Success coach can act as the single point of contact for students, directing them to resources in such areas as counseling, disability services, financial aid, tutoring, and other academic support services. In this manner Student Success Coaching programs are similar to veteran service offices which commonly offer holistic services to military-connected students. Ultimately what these programs have in common is a unified effort to combine the students' drive to persist at their universities with the institutions' responsibility for retaining them.
EASTERN MICHIGAN UNIVERSITY
Holman Success Coaches at Eastern Michigan University are known as "personal trainers for college." They provide assistance with scheduling, study techniques, and information about resources available on campus. Holman Success Coaches use their extensive experience working with students while taking a one on one approach in helping them navigate the collegiate experience.
As with many Student Success Coaching programs an ongoing effort is made to teach study techniques, reinforce time management, and improve student performance through "skill building workshops."
In addition to Holman Success Coaches, EMU also has a robust peer mentor program to help students make contact with successful peers and supplemental instruction to assist students with mastering course content.
GRAND VALLEY STATE UNIVERSITY
At Grand Valley State University Student Success Coaches "empower students to develop skills for academic and personal success." This is done with an emphasis on career exploration, campus involvement, and study skills development. Student Success Coaching at GVSU is under the auspices of the Office of Multicultural Affairs, which strives to grow and maintain a safe and inclusive culture for all. As with many Student Success Coaching programs an ongoing effort is made to teach study techniques, reinforce time management, and improve student performance through "skill building workshops."
Other programs offered by the Student Academic Success Center are Academic Skills Resources, Oliver Wilson Freshman Academy, TRIO Student Support Services, and pre-major advising.
MICHIGAN TECHNOLOGICAL UNIVERSITY
Assisting students in acclimating to educational challenges is the focus of the Academic Success Coaches at Michigan Tech. Through scheduled meetings, weekly appointments and generous walk-in hours students are given an opportunity to develop skills in social interaction, effective time management, and other habits to promote academic success. In order to foster a culture of success between high achieving students and students in need of academic assistance, the success coach model at MTU is articulated through the use of peer advisors.
"My experience as a success coach has been both a learning experience and a reward. Not only do I get to connect with a diverse group of students, but also a diverse group of resources… Having access to so many resources and approaches allows me to help each student make their own, individual plan to succeed. Connecting my peers to these resources and watching as the semester begins to come together for them as they reach their goals is incredible. To watch someone succeed and think I may have played a role in their success is awesome." – Erin N. Richie, Michigan Technological University, 5th Year Mechanical Engineering student.
USEFUL ARTICLES AND OTHER MATERIALS
Will Emerson is the Director of Student Success Initiatives at the Michigan Association of State Universities.
---