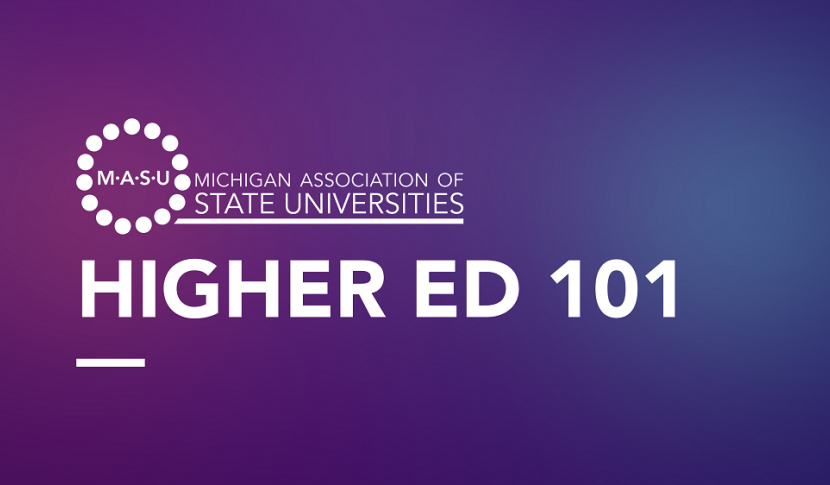 Back to News
Higher Ed 101: Mission Critical, Part 1
State universities in Michigan are not cookie cutter copies of each other. Each institution has a different history, a different geographic location, different local and state stakeholders, and above all else, different students and missions to serve those students. Because of this institutional differentiation, higher education policy and finance affects each university in a different way. Just like there is no cookie cutter university, there is no one-size-fits-all policy.
To that end, this second installment in my Higher Ed 101 series gives an introduction to the 15 distinctly different state universities. I'm focusing on the historical missions of the universities for brevity this week, not their current missions. Why do these historical missions matter? Because when, why, and for whom a university was founded sets on a path that leads it to its mission today. A university founded for regional college access as its mission will likely still have a different mix of students enrolled than those who attend an institution that became a research university long ago. An older university has more living alumni who might donate to it, and by definition, has more time to allow assets to grow in value. In my next post, I'll get into the current missions and classifications of the Michigan public universities.
Each section is listed in order of founding date of the oldest university in that section. As a fun bit of trivia, the colors in the MASU logo represents the 15 universities arranged by date of original founding.
The original university
The University of Michigan was founded in 1817 as the "Catholepistemiad, or University of Michigania" – twenty years before Michigan even became a state. It was, similar to other universities at the time, founded to teach the classical arts, sciences, and languages to students in the Michigan Territory, then still the frontier of the United States. It was also inspired by the then-cutting edge research universities of Germany, which merged learning with research to enhance both missions; the UM medical school was also founded early to meet the needs of the state. Research for the public good has therefore always been part of the UM tradition. UM was not the first public university, but as public higher education was still a new and evolving concept, UM became a template for universities around the nation and the world.
The normal schools
These four "normal schools" created by the State of Michigan were institutions focused on training teachers, hence why they were also known as teachers colleges. As European settlement of Michigan continued and population swelled, more and more elementary and secondary schools were set up, necessitating a growing number of teachers. These institutions were often the first colleges that enrolled large numbers of women because restrictive gender roles at the time made the profession disproportionately female. The normal schools were sometimes regarded as part of the K-12 system or sometimes as a distinct entity in higher education; the former is why these four now-universities were once governed by what is now the State Board of Education. In most states, normal schools evolved into regional universities doing a little of everything: research, liberal arts education, and also workforce-oriented education; the roots of the latter are evident in Central Michigan University also being a "business institute" for a period of time.
The agricultural land grant college
Michigan State University, founded in 1855 as the Agricultural College of the State of Michigan, was the nation's template for land grant institutions in the 1862 Morrill Act. A "land grant" university was one that was originally funded by the federal government granting a large allotment of land to a state, which would sell the land for proceeds to start the institution. In exchange, these new public institutions serve the public needs by teaching not just the traditional classical arts and sciences, but also the new disciplines of mechanics/engineering, agricultural science, and other practical education. Land grant universities in most states became very large institutions and made higher education drastically more available to the people. Land grant institutions were and are still expected to be heavily involved in public outreach and bringing research from the lab to everyday residents as part of their mission.
The municipal university
Wayne State University dates its founding to 1868 as the Detroit Medical College, which was one of many independent colleges and schools that were eventually unified into one higher education institution. After Detroit became the fourth-largest city in the United States by 1920, WSU was assembled from a medical school, normal school, a junior college, and other units to become a public institution under the control of the Detroit Board of Education. It was purchased from the Detroit public school system by the State of Michigan in 1956. This historic dual mission between medical education and being a pipeline from the Detroit public schools has thus always been part of WSU and continues to this day. 
The private industrial arts institute
Ferris State University, founded in 1884 as the Big Rapids Industrial Institute by future Michigan Governor and U.S. Senator Woodbridge Ferris, was a local institute for teaching applied and workforce-related skills. Much like early medical schools of the time, its pharmacy department was considered a separate enterprise from traditional college education. The Ferris Institute changed control multiple times, evolving slowly from a for-profit business to a non-profit school, and then eventually was donated by the Board of Trustees as a gift to the State of Michigan in 1950. The donation of Ferris gave the state a public college providing a needed skilled workforce to an underserved area of the state, without having to build a campus from scratch.
The mining school
Michigan Technological University, founded in 1885 as the Michigan Mining School, was purpose built to educate engineers to go into the mines of the Western Upper Peninsula. Mining schools were not as common around the country as normal schools or land grants, and they were predominantly located in the Western United States or Appalachia, as one might expect from geography. By and large, these schools kept their original focus on applied science and research even after American mines petered out, and are still heavily involved in the education of engineers to this day. That engineering orientation is reflected in the median starting salary of $65,000 for today's graduates of Michigan Tech.
The regional access colleges
Finally, after World War II, something amazing happened. The federal government, in wanting to prop up the post-war economy and avoid an army of unemployed veterans, granted returning veterans the benefits of free college in the G.I. Bill. Millions of (mostly white) veterans flooded into public higher education, causing the explosive expansion. States and businesses also discovered that a better educated workforce was also a more productive workforce. The intensifying Cold War also led the federal government to invest more money into higher education for scientific and defense research, further enabling part of this expansion. State legislators and regional chambers of commerce in Michigan fought tooth and nail to have new regional public colleges established in their areas, bringing a dual benefit of an educated citizenry and economic growth. True to their founding as regional institutions designed to expand access to higher education, these universities today still have diverse student bodies with many first generation or lower income students.
Four universities were established as branch campuses of existing colleges or universities:
And finally, two campuses were established as brand new entities in their own right, in order to try to serve the huge demand for regional higher education:
---
You can follow along with other Higher Ed 101 entries as I post them by going here. Feel free to reach out with any questions or comments!
Bob Murphy is the Chief Policy Officer at the Michigan Association of State Universities.
---