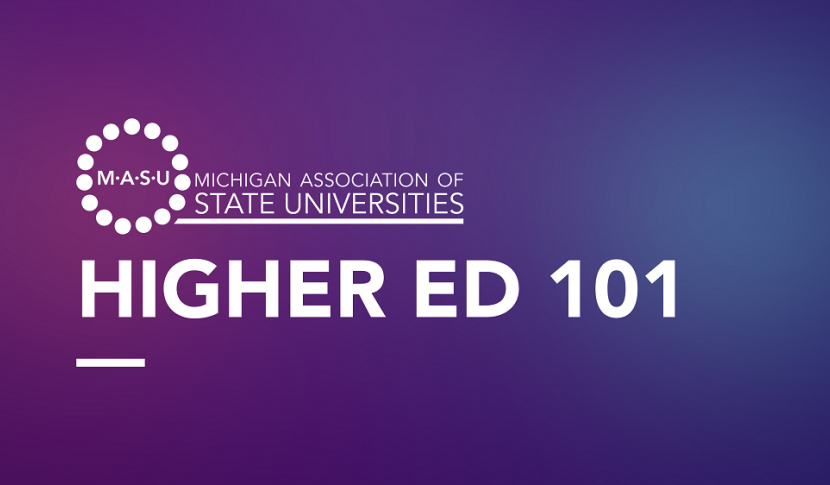 Back to News
Higher Ed 101: A new introduction to Michigan public universities for policymakers
Congratulations to the newly-elected members of the 101st Michigan Legislature! Choosing to run for office and serve the public is a major commitment, and associations like the Michigan Association of State Universities (MASU) exist in part to provide information to these public servants. After a few years here in this job, I find that certain questions pertaining to higher education keep coming up again and again. Accordingly, MASU's first project this session is to try and create a short and useful primer on how universities work, with special attention paid to budgeting and finance.
One of the trickiest budgets for new Appropriations Committee members to learn happens to be the higher education budget. There's no state department of higher education in Michigan. There's essentially only one line item per institution. There are constitutional policy concerns. Accordingly, every few years, MASU publishes an updated Michigan Higher Education Public Policy Agenda, helping policymakers get to know major recurring policy issues in this state, and our 2021 edition is soon to be released. In the coming weeks, I'll be writing in this space a few entries that will help complement our public policy agenda and can hopefully be of use to new and returning legislators. Today's entry is just a broad overview of Michigan's public university sector.
The structural basics
To start with, there are 15 public universities in Michigan, all of which constitute the membership of MASU. The universities are separate entities from the 28 community colleges, the local school districts, or the Michigan Department of Education. Public universities are not local units of government, but are technically part of the executive branch of state government. All the universities are governed by boards of eight members; however, there are only 13 boards, not 15. The Regents of the University of Michigan oversee all three campuses at Ann Arbor, Dearborn, and Flint. The boards of Michigan State University, the University of Michigan, and Wayne State University are elected statewide, but the other ten boards are appointed by the Governor. All university governing board members serve staggered eight-year terms.
Thirteen of the campuses are directly administered by a president; the University of Michigan-Dearborn and University of Michigan-Flint are run like separate entities, but both each is headed by a chancellor that reports to the President of the University of Michigan, who directly administers the Ann Arbor campus. The ultimate roles of the governing boards are hiring and reviewing the president of the institution, approving key policies related to items like tuition, enrollment and capital construction, approving major contracts and investments, as well as providing insight on and approving the university's strategic direction. State university employees are considered public employees, but are hired by the institutions directly, and are not part of the state classified civil service.
The relationship between the state and the campuses
Michigan's public universities have strong independence from the political entities of state government. This was an intentional policy embedded into the state constitution in 1850 after the legislature itself concluded that political interference, micro-managing, and rumored state legislative corruption were preventing the young University of Michigan from succeeding. Without having to go the legislature and ask for approval every time they needed to buy a desk, UM thrived and has evolved into one of the world's great universities, and eventually this model was extended to the state's other public universities as well. It has been a key reason why Michigan's public universities are as strong as they are. Many other states have state departments or commissions that try to oversee their higher education institutions. The median staffing at these agencies is 60 state employees, and at the Ohio Department of Higher Education, it's over 80 state employees.
Here in Michigan, we don't have such entities. Instead, each president and their leadership team engage directly with members of the Legislature and the Governor's Office, and vice versa. Each postsecondary education sector (the public universities, community colleges, or private colleges) has a small private nonprofit office in Lansing that advocates for the interests of and coordinates among its members. Here at MASU, we are small but mighty staff of three; again, compared to 80 state employees in Ohio's centralized postsecondary state system. Michigan's system is built upon efficiency and nimbleness; healthy competition that meets the needs of students and the state.
Instead of imperious bureaucracy in Michigan, the Governor and Legislature generally influence higher education policy through the state budget. Even though state funding of the universities has been declining for many years in real dollars, the state budget can place a very limited amount of conditions on appropriations. The constitution forbids too heavy of a hand, however. Oversight is usually executed by asking universities for reports and data. As an example, the state universities spent almost 10,500 hours complying with state reporting requirements alone in fiscal year 2018, and that's separate from federal requirements.
Future entries in this series
This has been only a top-level description of how public universities in Michigan operate. Future entries in this Higher Ed 101 series will dive into more specific (and fun!) topics like:
The state budget and higher ed finance

Institutional budgeting

Different university missions and activities

Tuition

Price versus cost

History and context

Facilities and capital construction

Accountability and oversight

And more! If you have interest in a specific question, email me or let me know at @BobWMurphy and I'll be likely to write about it.
You can follow along with other Higher Ed 101 entries as I post them by going here. This won't be a particularly formal series, but if any reader has any question or wants to learn more, I'm always happy to provide more information, sources, or further reading.
Bob Murphy is the Chief Policy Officer at the Michigan Association of State Universities.
---